All pictures in this page are by members of ABADA-Capoeira.
Feel free to send me pictures and I'll post them here,
with credit to the author.
Please read the disclaimer below.
---
Topeira's "Vingativa"
---
Topeira's oil painting (Painter 5)
"Armada e Esquiva"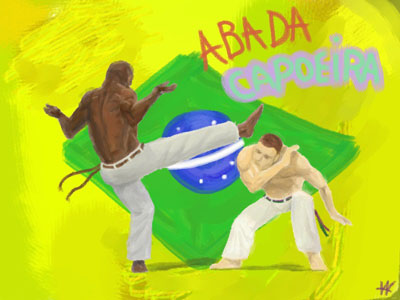 ---
John Lennon's "Roda"
Click to enlarge


---
Topeira's "Chamada"
click to enlarge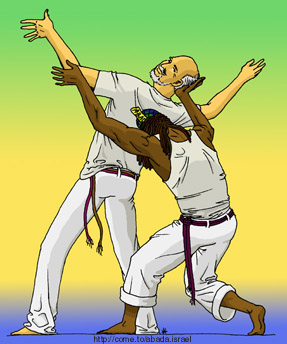 Topeira's "ABADA-Capoeira"
---
Jaguatirica from ABADA-Sweden
---
Pictures created with MetaCreations' "Poser"
Topeira

Tesora

Queda de rins

Cristal

Meia-lua
---
Note: The following three pictures are scanned hand-drawings.
They are very large files, but they're worth the downloading time!

Roda on the street
by Topeira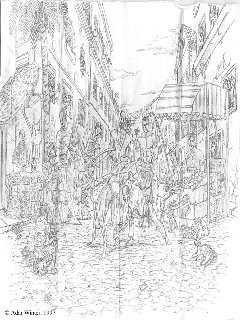 ---
Moves
by Topeira
Do ignore the guy who's sneaking up on the rabbit! :-)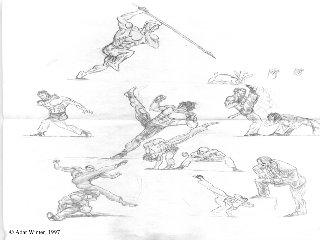 ---
Roda on the beach
by Topeira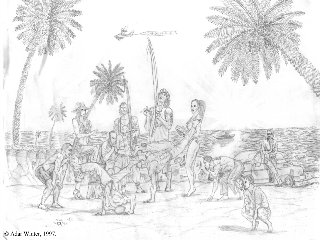 ---
You may download these photos freely, but please, do not alter them in any way.
If you post them on the Internet, please link to this site. Thanks.
© All rights on these pictures are reserved to their respective creators.